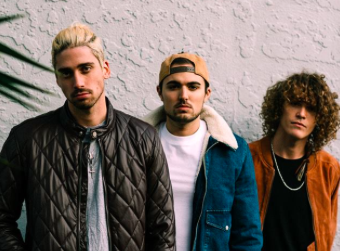 CHEAT CODES
LA based pop electronic trio who attract 18 mil+ Spotify listeners a month will be releasing in Spring/Summer and are touring this Fall. They just signed with 300 Entertainment and are absolutely blowing up worldwide. 
◀ MUST HEAR TRACK: "LET ME HOLD YOU
MEG MAC

After a gorgeous EP and US tour with D'Angelo, Meg Mac has been recording an album that is sure to blow you away in 2017. 
COBI
A new addition to the 300 Entertainment roster with a quickly growing fanbase, Cobi is getting a ton of heat. With over 13 million streams on just Spotify alone, the Minnesota born soul singer's music has drawn comparisons to Hozier and Jeff Buckley.. 
BLONDER

Having played intimate shows at Elvis Guesthouse with his pals Porches, Frankie Cosmos, and Dev Hynes of Blood Orange, BLONDER is an up and comer with tasty songs that get stuck firmly in your head.  His EP will be released this Spring. 
REJJIE SNOW

This Irish rapper was just upstreamed from Honeymoon Records to 300 Entertainment and is gearing up for a big release next year. His sound is fresh and he's been covered by Pitchfork, ID, Dazed, and more. 
COAST MODERN
This LA duo has hit the scene hard- playing their first ever show this year at SXSW at the Perez Hilton party. They quickly gained a big following with their releases getting a ton of attention on blogs, got several #1s on Hype Machine, and have been on like every Spotify playlist ever. They have toured with Borns and Temper Trap and are gearing up for a big release in 2017, message me if you want the album sampler. 
◀ MUST HEAR TRACK: "THE WAY IT WAS" – 
THE REGRETTES

The Regrettes are a 4 piece punk outfit out of LA on Warner who have gotten some rad features in Dazed, LA Times, Vogue, USA Today and more. Fronted by Lydia Night the band writes music based on their every day lives as teenagers. The band is opening for Sleigh Bells this Fall and will be releasing early 2017. 
With a sonic aesthetic that sounds like Jai Paul produced a song by Chet Faker and Frank Ocean, this 18 year old artist from Atlanta is destined for greatness! He is on tour now with WET and will be releasing more in 2017. 
TWO FEET

Don't sleep on this Harlem based artist whose jazzy electronica has captured the hearts of the blogosphere. Compared to electronic jazzehead Tom Misch, Two Feet is on Majestic Casual and will be releasing music in 2017.